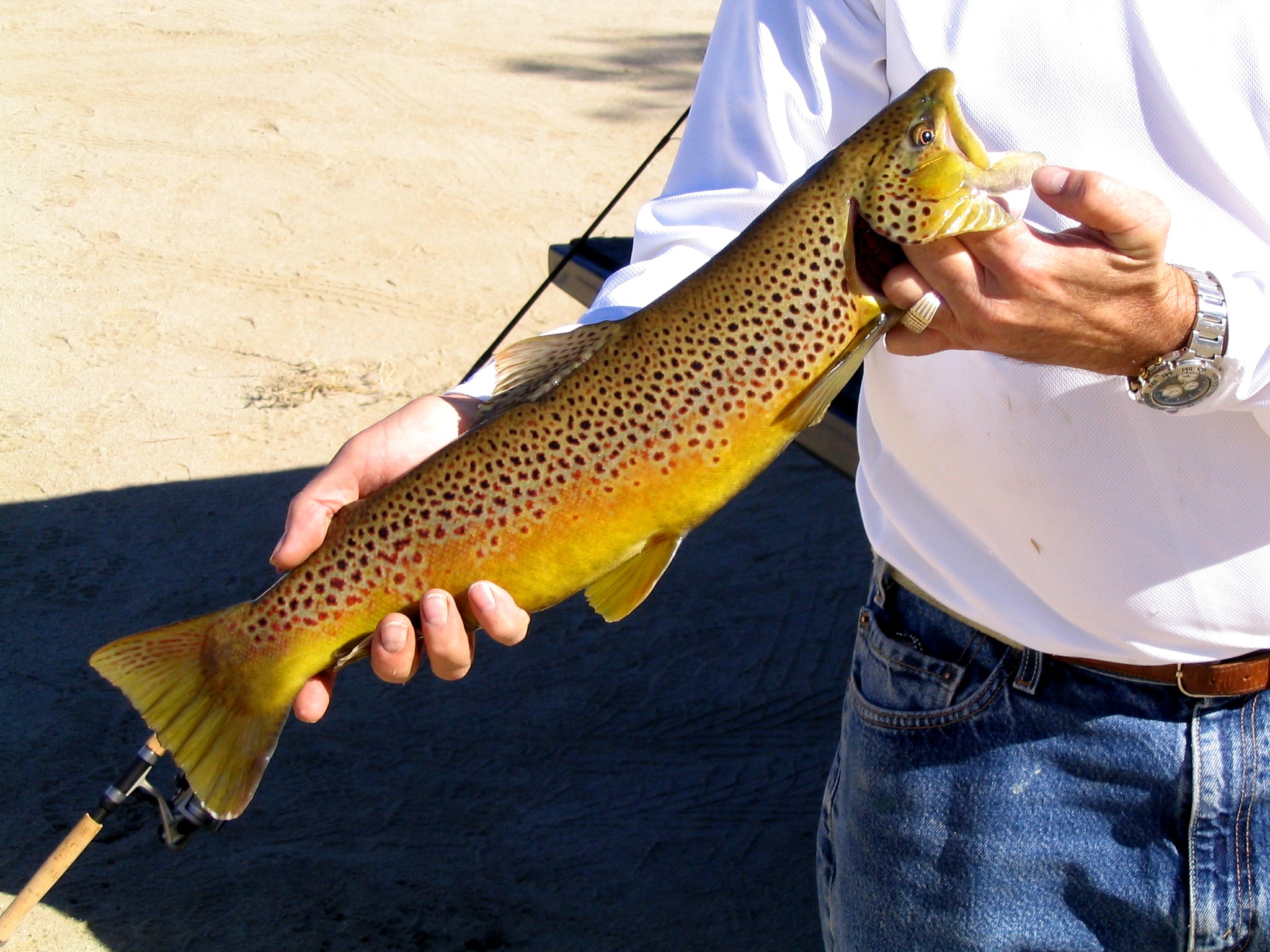 Try giving bass sized lures a try, they do work. Let me tell you about some of my experiences.
I have a good friend that likes to fish for trout. There have been several times that we would go fishing together. I of course wanted to fish for bass and Tom would want to fish for trout. I didn't have any tackle that was actually trout stuff but I did have plenty of bass stuff. So, can you guess what I used in trout infested waters? Yep, you guessed it and boy howdy, I caught trout. At first Tom laughed at me and told me that it would never work but I wouldn't listen. The funny part was that all of the trout that I caught were a lot bigger than the ones Tom was catching. Of course this caught his interest and he wanted to know what exactly what I was using and of course if I had any extra. The first time this happened, as I lent Tom a small bass crank bait, I told him that he would probably catch the biggest trout of his life and guess what he caught on his second cast. Yep, a big toothy German Brown Trout that weighed over 7 pounds. It was a very nice fish. Another time we were fishing for small mouth bass in the Owens river. I was using my favorite spider jig and catching some nice bass. I made a cast, felt the slight tap and noticed my line start to swim off. I reeled down until I felt pressure and set the hook hard. Upon the hook set this German Brown trout shot straight out of the water like a missile fired from a submarine. I swear that this fish cleared the surface by at least 4 feet. He ended up weighing just a bit over 8 pounds.
There is this stream that I like to fish often because it holds some very nice bass. I'll be catching bass on a 6 inch drop shot worm and have big trout just knock the fire out of them. I can honestly say that I've caught big trout on everything form hard jerk baits to deep diving crank baits to 12 inch plastic worms, just about any type bass lure I have.
Did you know the big ole hunk of painted wood with the small paddle tail called the AC plug was originally created back in the 80's to catch big brown trout and only became very popular when bass fishermen starting using it to imitate stocker trout for the monster bass out here in California that have made trout part of their diet. Up until that point it was a bait used exclusively for trout. Even back then Alan Cole knew that big trout eat big baits and still to this day people are catching monster trout on this big ole hunk of wood.
While the stocked trout may be just a Power Bait eating, fly gulping, cheese nibbler, the bigger trout don't live by the same rules. Give bigger baits a try the next time you go trout fishing. You just might surprise yourself.
Thanks for visiting my site. Be sure to tell all of your fishing buddies and come back soon!
Until Next Time, Good Luck and Tight Lines To Ya!