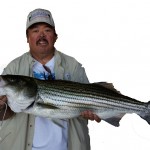 I decided to make a run down to the CA Aqueduct today and meet up with a couple friends. Armed with my Kistler Rods KLX with Shimano Chronarch spooled up with 15 lb Seaguar AbrazX and Savage Gear USA Sandeel Swimbait, gotta love the way it looks like the Silversides, we beat the water to a froth from far west to the east. My buddy David got a nice catfish at the first spot, congrats Dave!
We continued on, I got a couple bites along the way but didn't connect with them. Then at the last spot of the day I was twitching in my Sandeel Swimbait when something WACKED IT, I set the hook and the fight was on!
Drag screaming as it ran upstream, "Please don't spool me!" Then he turned so I was able to get back some line, then he took off again and again. Finally got him to the shore and there was no way I could swing this beast up so my buddy Shawn laid down on the side of the duct as another friend held his feet and he grabbed him with a lip gripper and he's mine! WOOOO HOOOO!
He was 33.5 inches long with an 18.5 inch girth, weighed in at 14.3 pounds, my personal best aqueduct striper! FISH TACOS FOR DAYS!
FYI, about the white background, I did it because it seems like everytime I go down to the aqueduct its getting more and more trashed. I see alot more trash and junk everywhere, dirty diapers, used needles, tampons, empty broken beer bottles, used fishing line, etc and it is getting very upsetting. At one spot, someone used a king snake as bait and then left it to rot on the duct side with hooks still in it, some people's kids.
I'm seeing quite the influx of illegal trot lines. I've also notices a lot more fences being cut. I know that the duct workers are keeping an eye open due to all the vandalism and they are recording license plate numbers and turning them into the authorities. Hopefully they bust the jerks because it would be very sad if they close off alot of the duct due to the actions of a few jerks. I'm hoping that by blocking out the back ground maybe some of my favorite spots wont get as abused any worse than they currently are, maybe I'm to late, hopefully not.
Thanks for visiting my site, be sure to tell your friends and come back often.
Until Next Time, Good Luck and Tight Lines To Ya!