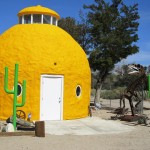 There is a little town located on highway 395 in the Eastern Sierras called Olancha California. I know they bottle Crystal Geyser Spring water up there but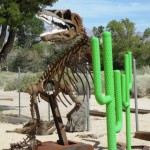 I'm curious as to just what is in the water up there in Olancha, let me explain. Now first off I know most anyone that has been up that way has seen the "Big Lemon Building" with the T-Rex Sculpture and Saguaro Cactus on the north end of town, actually its located in Cartago CA just north of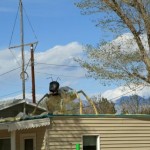 the water bottling plant. There is also a huge ant sculpture on top of the building next door but how many people have noticed the big waving Indian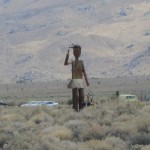 looking statue on the south side of Olancha?
Awhile back I took a picture of the waving Indian as I drove by at 70 mph and when I got home and blew it up I noticed that there were other things out in the field that I couldn't quite make out so I used Google Earth to see if there were any roads that led up to the area and discovered that there was. Fast forward a couple weeks, while heading up to the Owens Valley I wanted to get a closer look at the big waving Indian to and as it turns out there are a few other strange sculptures there including a Give and Take statue with a plaque that has a neat saying, even though the statue is kind of different.
Here's what the plaque right next to the Give and Take Statue says,
Put Something in the Give Container, then retrieve something from the take container. You can give without taking but not the other way around. If you choose to take without giving, the mirror will make you face yourself, and the eyes will follow you forever and ever just like in real life.
And yes, there are also several other statues made out of metal that are definitely, ummm Original to say the least, HA!
Thanks for visiting my site. Be sure to tell all of your fishing buddies and come back soon
Until Next Time, Good Luck and Tight Lines To Ya!