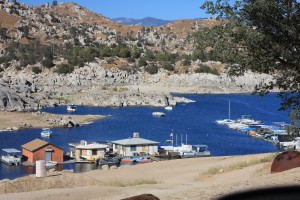 Hi again, as promised this will be part 2 of 3 of Lake Isabella. In part 1 I talked about some of the history of the lake, safety tips, basic rules and places to eat and stay in and around the lake. Here in part 2 I'll discuss fishing for my favorite species of fish, which of course is bass. Part 3 will be about other species of fish at the lake, primarily crappie, trout and catfish.
First, a little more history. Lake Isabella was initially stocked with Florida Strain Largemouth bass in 1972 then in 1983, only 9 years later, the first giants began to show up when a gentleman named Joe Weaver caught the new Lake Isabella record bass that was 28 inches long and weighed in at 18 pounds 13 ounces. It's the prime conditions at Isabella, as well as other California lakes, that caused these original Florida strain bass to become giants.
As I've stated time and time again, Isabella is by far my favorite bass lake. Partly due to the fact that it's the closest body of water but mostly because I've caught well over 100 bass that have weighed over 10 pounds from her waters. While its true that catching giant bass is very rewarding it can also be very boring because your targeting specific structure and usually fishing very slowly. Bottom line, your fishing for just a few bites a day. I talked about big bass fishing in a previous article so this time I'll give more information on quantity vs. quality. By the way, to help you understand more about catching big bass I highly recommend reading Bill Murphy's book, In Pursuit Of Giant Bass, available from Amazon on the lower right side of my site, and apply what you learn at Isabella.
Just in case you didn't know, the bag limit at Isabella is 2 bass per day and they must be at least 15 inches. While I personally practice catch and release I see nothing wrong with a person keeping a bass or 2 for dinner but please remember that the bigger bass should be released. I tell everyone that I take fishing that all bass 5 pounds and over must be released because they are the genetically better fish that produce better off spring and besides that the best tasting bass are going to be the 1-3 pound ones. OK, time to climb off the soap box and proceed with this article.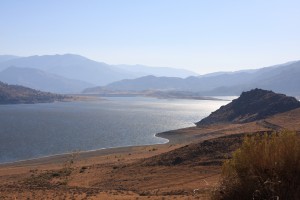 Whenever I take the Champion over to Isabella, anytime of the year, there are a handful of lures that I always have tied on and ready to go. These are my confidence lures that I know will catch Isabella bass. A Custom Yamamoto Spider Grub, I purchase the twin tail grubs and mini skirts separately to create my own colors and place them on a Revenge Football head, a 128 Lucky Craft Pointer, a Lucky Craft Sammy or a Spro Frog, a Yamamoto Senko, a big trout swimbait, I like the Huddleston Deluxe myself, a Norman DD22 Crankbait, a Texas rigged worm in 6-15 inch, yes I said 15 inch worm, a 4 inch worm on a drop shot and of course a 3 inch worm or reaper on a split shot rig.
As to colors for plastics, I prefer something that looks more natural, cinnamon blue, different shades of purple, watermelon, shad colors and of course browns and blacks. For crankbaits I'll throw either Shad or crawdad colors and I like to throw trout colored Huddleston Deluxe trout baits all year round. Other effective baits are Spinnerbaits, Fluke Style lures, Zoom Brush Hogs and Tail Spins.
Isabella bass seem to have an attitude and they are known for their strong fighting ability and with all the structure available, trees and rock piles, for them to run to you cant horse them in on light line so you have to wear them out. Now of course if your throwing a big swimbait on heavy line you want to get them in as quickly as possible so they don't have a chance of throwing the hook.
As to which line I would suggest, for the Sammy, or any surface lure, I like to use a braided line because it floats, my choice is 50 pound Daiwa Samurai Braid. For all other applications I like to use various sizes of fluorocarbon line because it sinks and has nearly the same light refraction rate as water, which would explain why it disappears once beneath the surface, so you can get away with using heavier line. I prefer the Seaguar AbrazX and Sunline. Of course everything has a down side and fluorocarbon tends not to be as abrasion resistant as monofilament or copolymer lines so be sure to check your line for nicks or abrasions often and retie.
Spots to give a try are Rocky Point, Piney Point, Boulder Gulch, French Gulch, Camp 9 and Free Air Point. When the water level is up like it is this year, be sure to give the following spots in the south fork a try, Lime Dyke, Browns Cove, Jophin and of course the trees in both the south and north forks.
Well, I hope I've helped you unlock some secrets of my favorite lake. Please remember to practice catch and release of the bigger bass, especially any over 10 pounds.  First off, they wont taste good and if you want to mount a trophy bass now days most taxidermists don't even do skin mounts, they use a fiberglass mold so weigh the beast, take pictures and measure the length and girth and give all of the information to your taxidermist.
Thanks for visiting my site. Be sure to tell all of your fishing buddies and come back soon.
Until Next Time, Good Luck and Tight Lines To Ya!