With the cooler weather, recently I had been receiving calls from my buddy Zoli telling me that I need to get down there because the striper bite was wide open. Of course he sent me several pictures of his recent catches via texts, which were very nice. I figured seeing how the duct has been rather fickle for me maybe I could get pay back on her for all the skunks I've had. One very nice thing about fishing down there is the aqueduct has a lot of access points that are very close to the water and the land is very level making it easy for people with disabilities to fish and of course catch fish, so I packed up my striper gear and headed down, more than once, but I figured that I'd make this one post instead of several.
First trip, after receiving a text from Zoli I sent a text to our other buddy Mike and asked if he wanted to go along, of course he does so it's on. Left town at 0500, on the way I stop by in Rosamond to fill up the gas tank because the cost of gas is almost 50 cents cheaper per gallon than in the town that I live and that's also where Mike lives. So I pickup Mike, fuel up then we head down and meet Zoli at 0630 and were off.
As it turned out they had stopped the flow in the duct for repairs, which usually makes fishing easier, once you find which pool they are in, and we did. It took awhile but after fishing several different areas we finally found them. While we didn't catch any of the "Bigger Models" we ended up catching 7 nice keepers, lost several others and missed quite a few bites, big fun! As to what we were using, Lucky Craft Pointer 128, Lucky Craft LV 300S, Koppers Live Target and Zoom Super Salty Flukes.
Here's the Cooler Shot, mmmmm, fish tacos!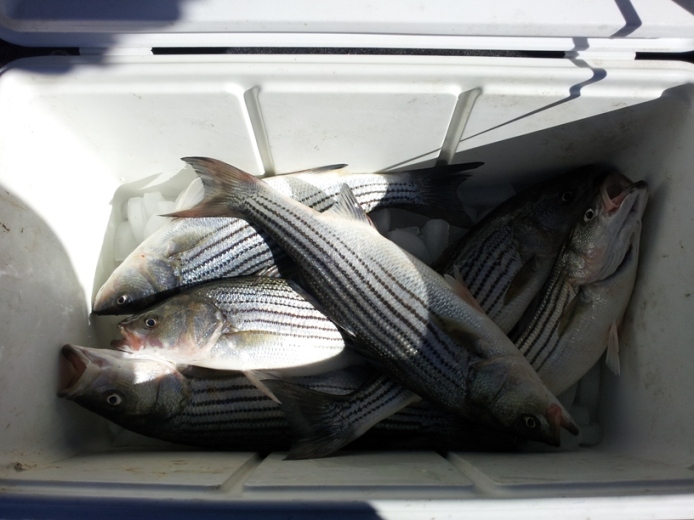 I had so much fun and success on the last trip that I headed back down again a couple days later and had an even better day. This time they had opened the gates and the duct was flowing so we had to search for them a little more but we still found them. The only down side to this is the fish are not trapped in the "Pools" and can move around but due to the weather finally starting to cool down the fish are cooperating because we were able to get at least a couple out of every spot we tried. Again, none of the big ones but good solid fish.
Here's the kill shot from this trip.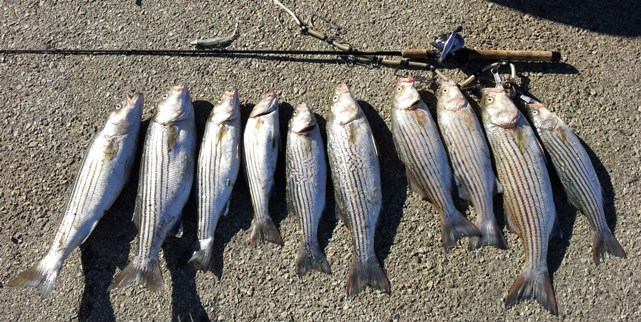 Next trip, Because the bite has been so hot lately at the duct I just had to head back down again. As we were heading west upon Ave D we came across an accident. It appears that a semi hauling hay went off the road then over connected and flipped on its side.
Below is a picture of the bottom of the semi as it laid on the drivers side, it appeared that the chain was connected to the other semi, see above picture, to pull it back onto its wheels.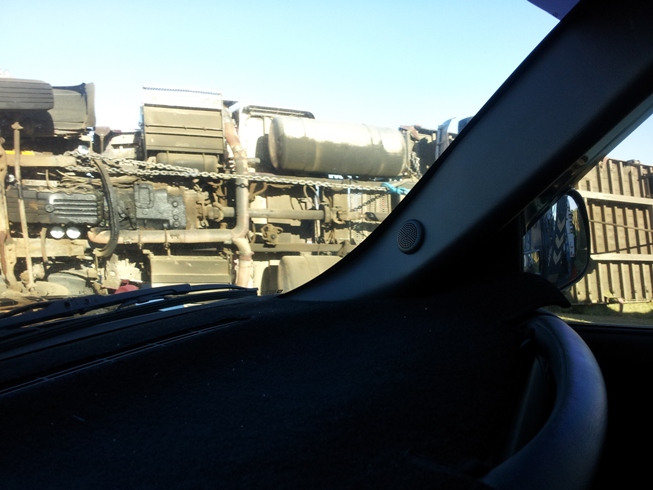 A little later in the day we came across another accident, didnt get any pictures but it appeared that a car had rolled over at least 2 times. By the time we arrived there was only a tow truck and 2 CHP's. Hopefully no one was injured in either accident.
Anyhow, back to fishing. We beat the water to a froth working from the west to the east and only ended up with 3 total, one was about 19 inches, the next about 17 inches and one about 13 inches, the smallest was set free to fight another day. I guess I got a little spoiled from the previous successful trips but at least I got 3, I didnt bother taking pictures this time.
I went back again a few days later, got bit 4 times, hooked 3 of them, one of which was a real good one. I set the hook and this thing just took off, peeling drag running down stream for what felt like an hour but was truthfully maybe 3 minutes. As he was running down stream he got closer to a gate so I applied pressure to the spool in hopes of turning him back towards me, bend, bend, POP! Yep, he snapped my 15 pound Seaguar AbrazX. I ended up catching 2 others that were decent sized, thick 17-19 inches but again I didn't bother taking pictures.
While it appears that the bite has slowed down from what it was, I'm sure with winter arriving and it finally cooling down I believe the bite will pick back up and continue to be good. To date my largest aqueduct striper was about 8 pounds, I'm hoping this winter I'll finally be able to get my double digit duct striper.
Thanks for visiting my site, be sure to tell your friends and come back often.
Until Next Time, Good Luck and Tight Lines To Ya!