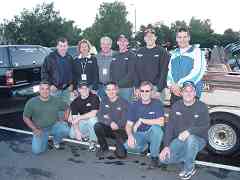 On Saturday April 23, 2003 I had the honor of taking the 2002 NASCAR Winston Cup Raybesto's Rookie of the Year, driver of the Number 12 All-Tel, Ford at the time, Ryan "Rocket Man" Newman out for a day of bass fishing on Lake Perris the day before his race at the California Speedway.
I also took his crew chief at the time Matt Borland out in my boat, Chrissy, his fiancé at the time and now his wife was supposed to attend but she couldn't make it. Fellow members of the Fishing Kids.com Pro Team took the rest of his pit crew along with his dad out on the same day. Yes, that's Ryan with me in some of the pictures in my above.
The way I met Ryan was while I watched NASCAR races they always said how much Ryan liked to go bass fishing and how he tried to get out at times during the race season. I then contacted his official fan club and after several months of sending e-mail's to countless different people I finally managed to get in touch with his public relations person and started to setup the date.
I was asked not to go public with the information about the planned fishing trip so we could keep the crowd down and Ryan could enjoy fishing without being hounded by crowds. I then contacted my fellow Pro Team members and told them they needed to be available for the weekend of April 23/24 to take a celebrity out fishing. I didn't tell them who it was or which lake we would be going to, just that it would be at a Southern California lake, on Saturday or Sunday so just be available and ready to go and that I would let them know all of the details on Thursday April 21.
So the stage was set, people in place and all systems go. Ryan had my cell phone number so Ryan could call me when they were on their way because they couldn't show up until after they had Saturdays practice.
So we all show up bright and early to the lake to do some pre fishing to make sure we were on fish before Ryan and company showed up. We all were able to locate active fish so we were ready to go. We setup in the corner of one of the parking lots, shared information with each other and cleaned up our boats.
I got the call and Ryan and company showed up at the lake in the afternoon. Anyone that has been to Lake Perris on a Saturday during the spring knows what he lake was like, pleasure boaters everywhere, but hey, no problem.
We all launch our boats and off we go. The first spot I stop at is by the old road across the lake from the launch and we proceed to work the stretch from there towards rock climber's cove. I explained to both Ryan and Matt that these California bass are very heavily pressured and offer to set them up with a finesse drop shot rig to which they said no. Ryan was throwing this funny looking, strange rigged, east coast looking, hard plastic purple worm, which I proceeded to tease him about.
Anyhow, after I catch 4 bass to their none, Matt comes up to me and asks me what I'm using again, so I rig him up and he proceeds to catch a bass. Again I tell Ryan to put down that stupid looking worm and use a west coast bait but he said he would stick with his funny looking worm. So, here Matt and I are catching bass and Ryan is not…………yet.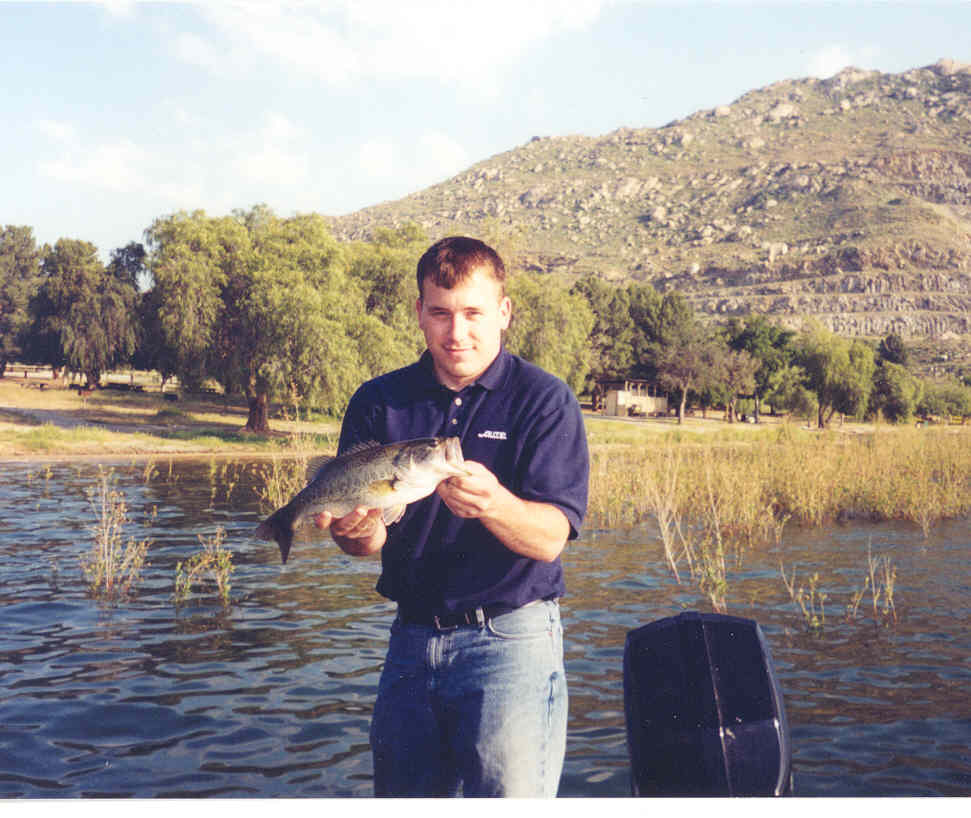 Yep, you guessed it, he ended up catching the largest bass of the day on that stupid looking worm and of course then it was his turn to be the ornery one. We continued to fish, catching them on Senko's, drop shots and I even managed to get one on a jig. We had a great time, teased each other back and forth like we knew each other for years.
I've heard people say that Ryan is somewhat stuck up and a jerk when they have met him at the track but I personally know that he is far from stuck up or being a jerk. He is a down to earth great guy with a great sense of humor, he has to have one in order to put up with me in my boat for the day.
After we were done we stood around and took some pictures, got some autographs and talked about the day and how much fun we had. After packing things up Ryan asked me where the nearest In and Out Burger was so off we went to have Double Doubles with Grilled Onions.
About 2 weeks after we went fishing I get a package in the mail. Ryan sent me a bunch of autographed photos to hand out to my fellow Pro Team members, an autographed T-Shirt and can you guess what else was in the package? I'll give ya a hint, remember what I mentioned I teased him the most about? Yep, 2 of them stupid looking purple worms.
We still to this day call each other and talk from time to time but since he became a NASCAR Super Star, with all of his sponsorship obligations he does not have much free time to break away and do much fishing during the race season but wishes he did.
That's my story, I hope you enjoyed reading it as much as I enjoyed remembering it.
Until Next Time, Good Luck and Tight Lines To Ya!