One word, NO.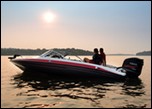 If you can afford them it sure is nice. Or if you can pick up a sponsor that give's you one to promote their brand then that's even better!  However, for your average working Joe, weekend angler, either of these can be tough.Don't fret, its not the end of the world. There are several different options you have.
First off, if you finance a new boat there are finance companies that will give you a loan that have options to extend the payments over 10 plus years. This has good and bad benefits. Good in the sense that the payments can be low but bad because if you sit down and actually figure out just how much you will be paying over the term of the loan it just might shock you.
Paying with cash is always great, I don't know about you but I don't have that kind of cash laying around. Yes, its always nice to have a brand new, state of the art bass boat with all of the latest electronics. One that when other anglers see you on the water they drool.
Trust me when I say, it wont make you a better fisherman and let me share another secret with you, the bass don't care if your in a brand new, high speed, fully equipped fiberglass boat or if your floating along, sitting on a lawn chair attached to railroad ties.
There are also the slightly used bass boats on the market. Boat companies usually give new boats every year to their sponsored pros. Then they sell the boats that were used for one season at a very discounted price. Not free mind you, but at least a few thousand less than a new one off the show room floor.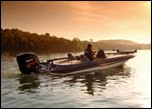 These boats usually appear to be a pretty good deal. They are well maintained both mechanically and appearance wise.
One thing to remember about these boats. Some of the time these boats are used very hard for that season. They can be abused and rode hard, even though they might not look it while they are sitting in the parking lot. In my opinion when someone gets something for free they don't take care and caution when using it because they didn't have to pay for it with their own cash.
Then there are times when these boats are well used and in great shape, so as you can see, it can be kind of a crap shoot at times.
Another option, if you fish in boater/non boater type tournament format you can usually find someone that is selling their used boat to buy a new one. This route is a great one to take because most of these type tournament organizations are a bunch of guys that know each other and you can talk to other members about how they feel the guy selling the boat takes care of it.
Another plus to going this route is you have a chance of drawing the boater before he decides to sell it and you can see how he treats his boat, how it runs, etc.  You can also become friends with these guys and get an even better price when they sale.
Then you have the aluminum boat's, these are a good deal. They are not as smooth as a fiberglass boat but they will do just about anything a glass boat can and if you accidentally bounce it off a rock or tree you don't ruin the gel coat and take on water in the bilge, unless of course you hit it hard enough to punch a hole.
You can always pick up a basic aluminum boat or even a john boat and modify it for bass fishing or any type fishing you prefer. Put a casting deck oh it, mount an ice chest in the middle. This can double as a live well and a place to keep your drinks cold.
You can get yourself a 20 horse motor or even a trolling motor, or just use some oars. If you get the trolling motor this would mean you would need a 12 volt battery and with that you could hook up a depth/fish sonar unit.
For a few hundred dollars you could make the ultimate bass John boat. I would not advise taking these smaller vessels out in "Open" water because it could be dangerous if the wind picked up. They are however great for fishing around structure, boat docks and smaller pond type lakes because you can unload and load them just about anywhere.
As a matter of fact, back when I fished tournaments as a non boater we had a member that had converted a 14 foot John boat into a 2 person bass boat. It just barely made the minimum legal boat length limit. His boat was usually left out of the draw because of its size unless we had an equal amount of boaters and non boaters. Lucky for me I never drew Brian. I'm a pretty big guy 6'3 275 pounds so it would have been tough fishing out of his boat all day.
You can always get yourself a Float Tube or the Pontoon type kick Boat
. These can be rigged into fish catching machines as well and you get right into the action. I'll share a story and some tips about float tuning in the future so stay tuned.
Bottom line, how much money do you want to spend or how handy are you at building things. The sky is the limit and the choice is yours.
Like I said before, the fish don't care what your fishing out of, just your lure presentation.
Until Next Time, Good Luck and Tight Lines To Ya!