After 2 years of trying I finally landed my first, hopefully many more to come, Double Digit CA Aqueduct Striped Bass.
I had a 10:00 doctor appointment in the Antelope Valley and figured that I'd head down earlier and wet a line for a couple hours. I stopped and picked up a couple friends that live in the area and off we went. Seeing how both of my buddies have caught 10 pound plus striper they allowed me to make the first cast at the first spot and it paid off for me, thanks guys!
We arrive at the first spot and on my first cast it felt like I had a snag, then it started to move across the current, so I said to myself "Hey, snags don't move across and up current, set the hook stupid" so I swing hard and its on! I knew right away that this was the biggest aqueduct striper I ever hooked. This thing started peeling drag, running up stream then down. Then he started to head towards the bridge piling and went around the corner and I thought it was over, I thought for sure he would rub the line on the cement piling so I applied some pressure hoping I could get him to come back, lucky for me he did. After what seemed like along time but it was probably only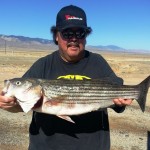 about 5 minutes I tire him out enough then he finally came to the edge, my buddy grabbed him with the lip gripper and he's mine!
He taped in at 29 inches long with a17 inch girth. According to the fish calculator that made him 10.5. Finally, I was able to land my first duct DD striper!
Oh yeah, I got him on a G-Loomis rod, Shimano Chronarch Reel spooled with 15 pound Seaguar AbrazX and a 8 inch Savage Gear Real Eel, Its Fish taco time!
BTW, I caught him at about 0730 ish then at 10:00 I went to my doctor appointment, it was kinda funny explaining to the doctor and his staff why I smelled like a dead fish, HA!