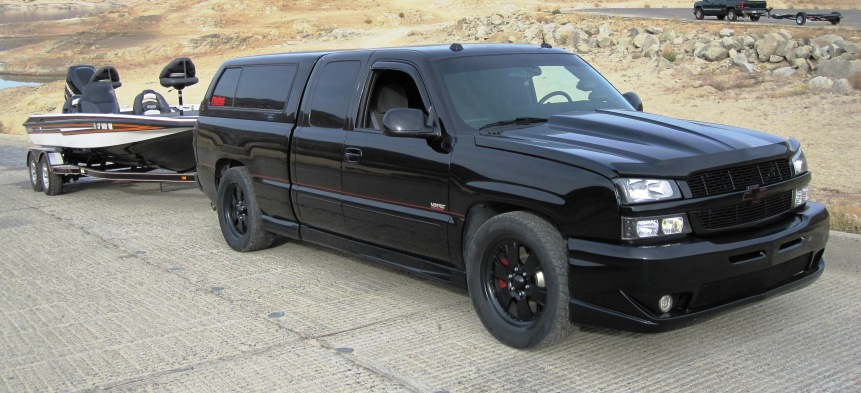 The warming weather usually means more traveling and time at the lake or wherever you like to go. Of course me being a fisherman if not due to the fact that I'm having my knee surgery I'd be spending more time on the water however, be it from shore or from a boat there are several things you should check on your vehicle to ensure a good trip. While its true that I'll be mentioning normal maintenance things that should always be done, please take the time to perform them before heading out on the open road. Unless of course if you have AAA Roadside Service and don't mind waiting on them to show up and tow you into town.
Let's start with the tires. Check the tread condition, is there enough? Check for bald spots or uneven wear. If you observe any of these items, I suggest going to a shop and getting some news tires as well as a front end alignment. Next, check your tire pressure. A set of properly inflated tires will not only wear correctly, as long as your alignment is good, but it will also increase your gas mileage.
Next take a look at your brake pads and rotors. If you can't stop your vehicle it would tend to spoil the trip. Look to see how much pad you have left. Check the condition of your rotors. If you don't feel comfortable doing this yourself then take it to a shop. Myself, I upgraded my breaks with the Baer braking system for improved stopping power
A lot of the following things that I'm about to go over are things that get checked when you have a lube, oil and filter at your local Jiffy lube, or like I said, you can do them yourself at little to no cost to you.
Anyhow, onto under the hood. Check all fluid levels starting with your oil. How long has it been since your last oil change? Oil is the life blood of your engine. Without it your motor will die. Check the level on your dip stick and add some if needed. I like to run Mobile 1 Full Synthetic with the Gold cap and K&N Performance Gold filters myself but its all personal preference.
Check your brake fluid, is full and clear or is it low and or contaminated or smell burnt? If it's clear and low just add some DOT approved brake fluid, be sure to check owners manual to be sure you add the correct brake fluid. If its in bad shape maybe its time to have it serviced. Like I said earlier, you need to be able to stop, I feel that is a very important tip right there.
Next check your transmission fluid level and condition. When was the last time you changed your transmission fluid and filter? I know on my Chevrolet in order to get a true reading this must be done with the motor running and the transmission in park. Check your power steering level. Usually if this is low your vehicle will be making a whinnying type noise but even if its not, take the few seconds to check the level and condition of the power steering fluid and top off as needed.
What kind of condition is your air filter in? If you have the stock configuration filter you might want to replace it with either another stock one or upgrade to a reusable one that you just clean every now and then.
Look around for visual leaks and be sure to take and corrective actions as needed. Take a peak at your Battery, does it appear to be swelled or leaking? If so replace it as soon as possible because its just a problem waiting to happen. A lot of today's batteries are sealed units and require no maintenance but some do require you to add distilled water from time to time. Are your battery cables clean and in good shape?
Look at your belts. Do they appear to be in good condition? If you can visually see cracks then spend a little money and replace them. Me personally, I replace all belts every 2 years just to avoid the chance of having one go to pieces on my way down the road. I also always carry a spare blower belt for my Magna Charger with me just incase because they usually are not readily available everywhere.
Onto under the vehicle. Check the condition of all rubber bushings for signs of wear. Be sure to grease all Zerk fittings, make sure you clean them first with a rag to remove any dirt that might have collected on them before adding grease with a grease gun. Check the Rear differential fluid and add as needed. Finally, check the spare tire. I have seen more than once when somebody gets a flat tire they take the time to jack up the vehicle and remove the flat tire only to discover that their spare tire is flat as well.
If your going to be traveling to a location that you have never been to before and you dont already have one it might be a good ideal to invest in a good Automotive GPS Personal Navigation Unit
I'm sure I didn't cover everything but I feel like I covered most of the important stuff that if you take the time to check before hitting the open roan, will help assure a safe trip to and from the lake. Sorry, but none of these tips will guarantee that you'll catch fish, HA!
Thanks for visiting my site. Be sure to tell all of your fishing buddies and come back soon
Until Next Time, Good Luck and Tight Lines To Ya!