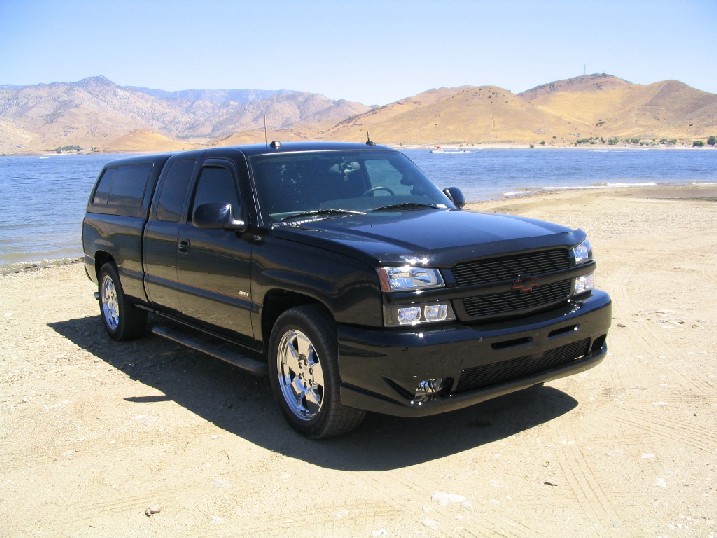 You arrive at the lake in the early morning hours. The anticipation inside you of that first bite is so intense you feel like your going to explode, like a kid at Christmas time, and just cant wait to get on the water. You launch the boat and blast off to your first spot or if your shore bound you park your truck, grab out the gear and hike down to the water.
That first bite comes very quickly with many more to follow and you proceed to have that fishing day everyone dreams of. Everything is perfect, the big fish are cooperating, the weather is beautiful and life is good. Nothing could possibly spoil the day.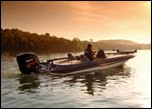 You arrive back at the boat ramp and tie up your boat to the dock. The huge smile on your face tells the other fishermen what kind of day you had on the water. You proceed up to your truck, talking to fellow anglers along the way. Upon arrival at where you parked your truck you discover that something indeed has spoiled your day. Some low life has vandalized or even worse, stole your truck. What's a fisherman to do?
Statistics show that on average, if a car thief has to spend much time trying to steal or vandalize a vehicle they will just find an easier target because they don't want to draw attention to themselves.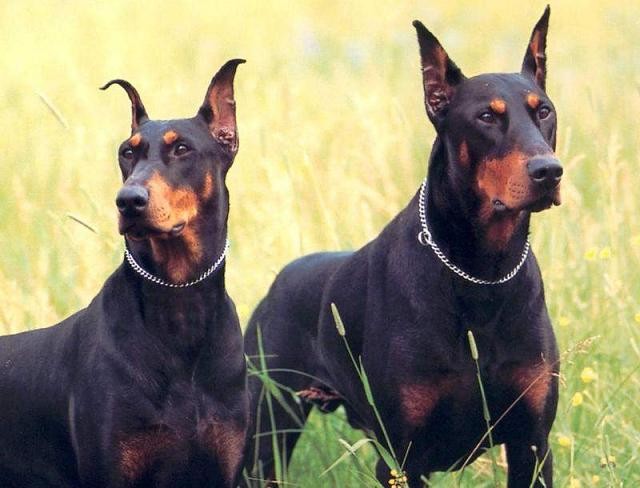 Lets see, short of tying Spike and Rex, your pair of crazy 120 pound Dobermans, to your front and rear bumper's there is not much we can do to guarantee nothing will happen to your truck.
While most of us have some sort of alarm systems on our trucks if a professional car thief really wants to steal your truck nothing can stop it from happening. While you can get the latest state of the art alarm system if the installation job is sub par then the system can be easily circumvented. Of course if you forget to arm your system then it cant do any good but we wont go there.
Do you realize that the most common tool used in vehicle burglary and theft is a screwdriver? It's fast, easy and doesn't attract as much attention as breaking a window. The scum bags have figured out exactly where to jam the screwdriver under the door handle and pop the locking mechanism open. Or they can just pop the lock into the door cavity, reach into the hole and unlock the door.
They've also figured out how to pop open the hoods on vehicles to cut the power to alarm systems thereby disabling them. With the hood open they can also steal items from under your hood. If you have HID headlights they are very easily removed as well as other items under your hood and can be sold for good money.
Another item thief's are stealing are tail gates because they can be very quickly removed and sold for hundreds of dollars. I can promise that if you have to replace your tailgate it will cost you well over $500.00 because you cannot buy just the tailgate from a dealer, you must buy the entire assembly.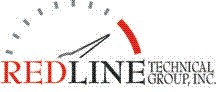 Enter the fine folks at Redline Technical Group, Inc. located in Mesa, Arizona makers of the Jimmi' Jammer. Huh? What is this Jimmi' Jammer? Its a custom formed steel plate that bolts to the backside of your door handle, preventing thieves from prying into the handle seam or punching the lock cylinder into the door. They also have the Hood Latch Jimmi' Jammer which is made from sturdy black coated metal that protects the hood release cable, and the Gate Keeper which keeps your tailgate with your truck as well as other truck security items.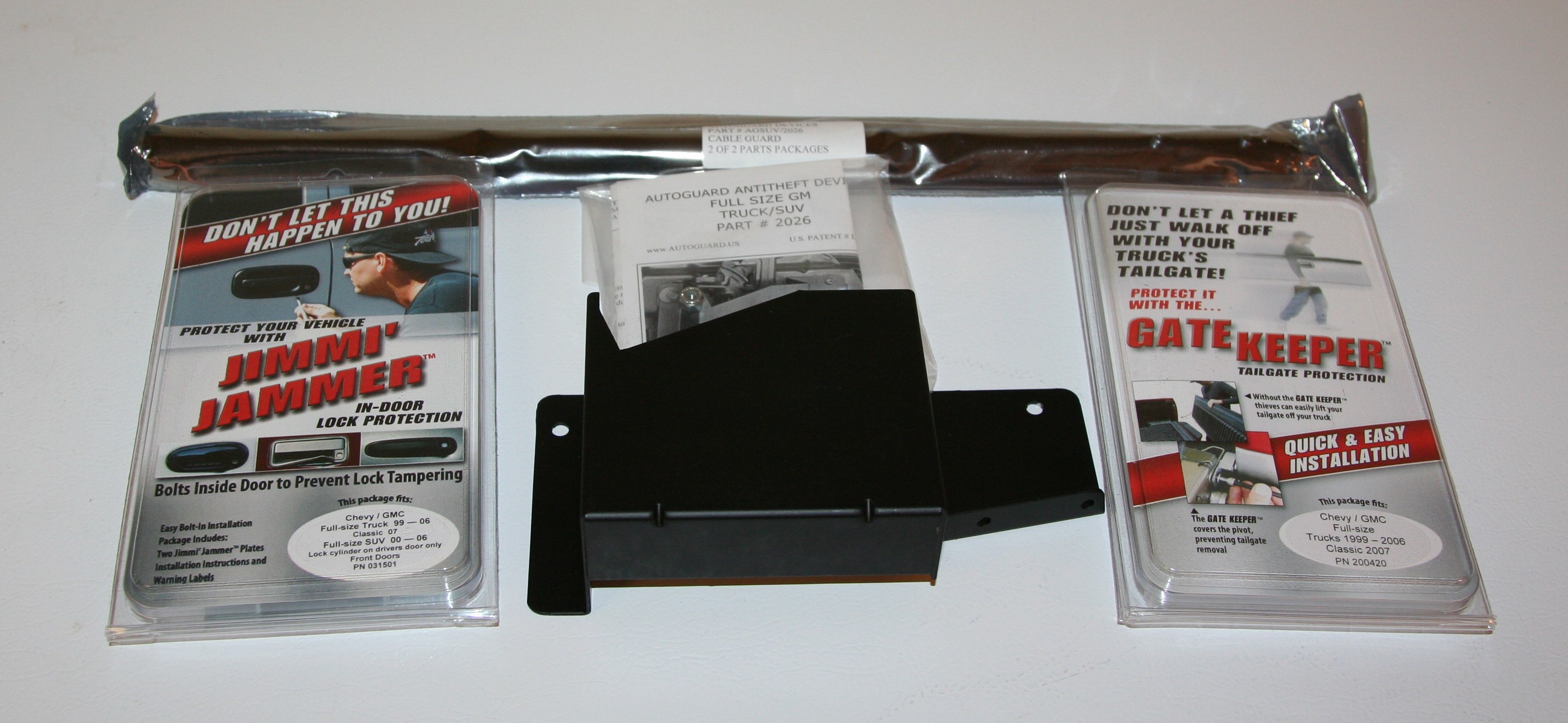 Installation of these items is very straight forward and easy with very detailed instructions. No cutting or drilling required. Even the mechanically challenged individual can install them with ease. Here are pictures of the Hood Latch Guard and Gate Keeper installed. I didnt take any pictures of my installation of the Jimmi Jammer but it was very easy.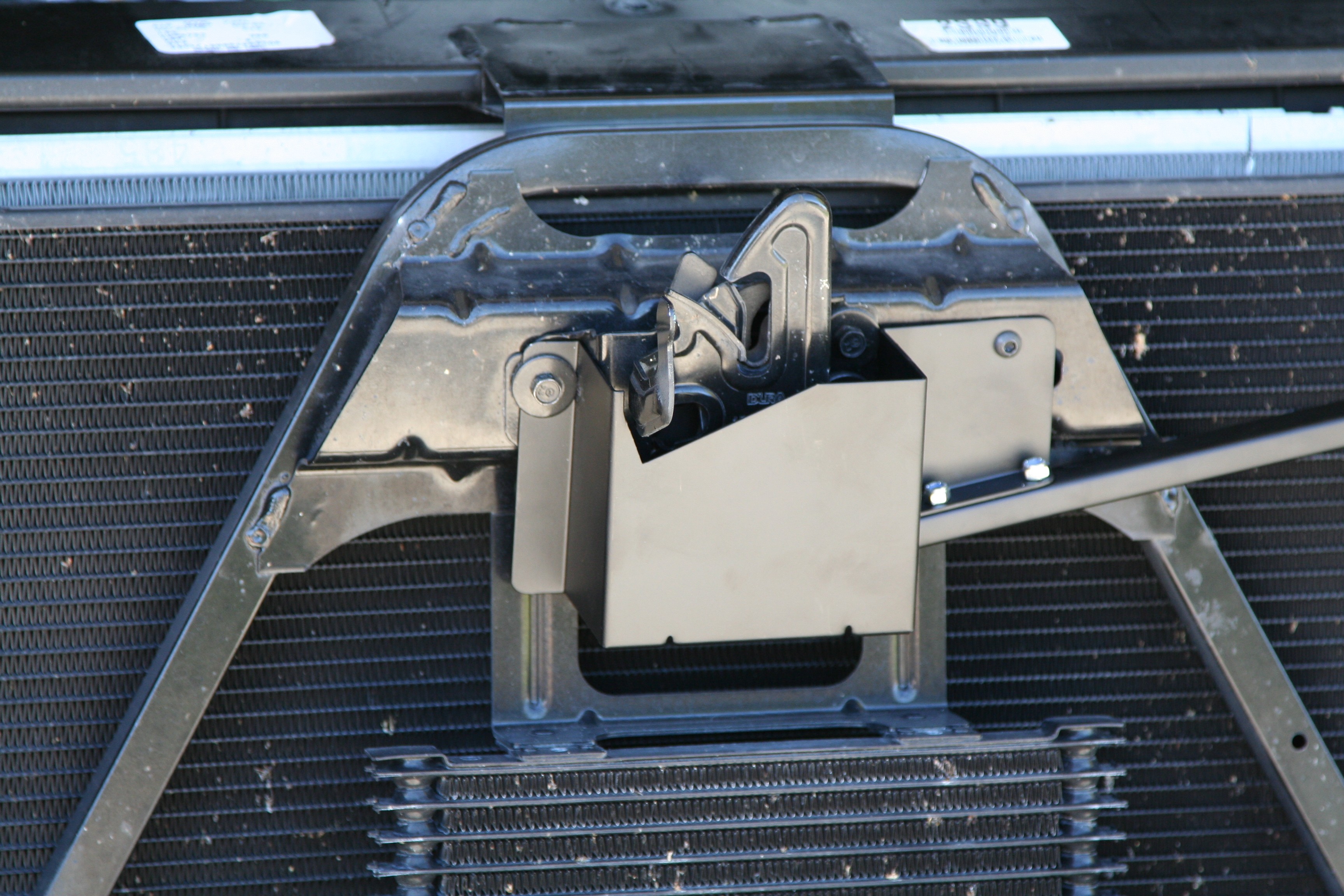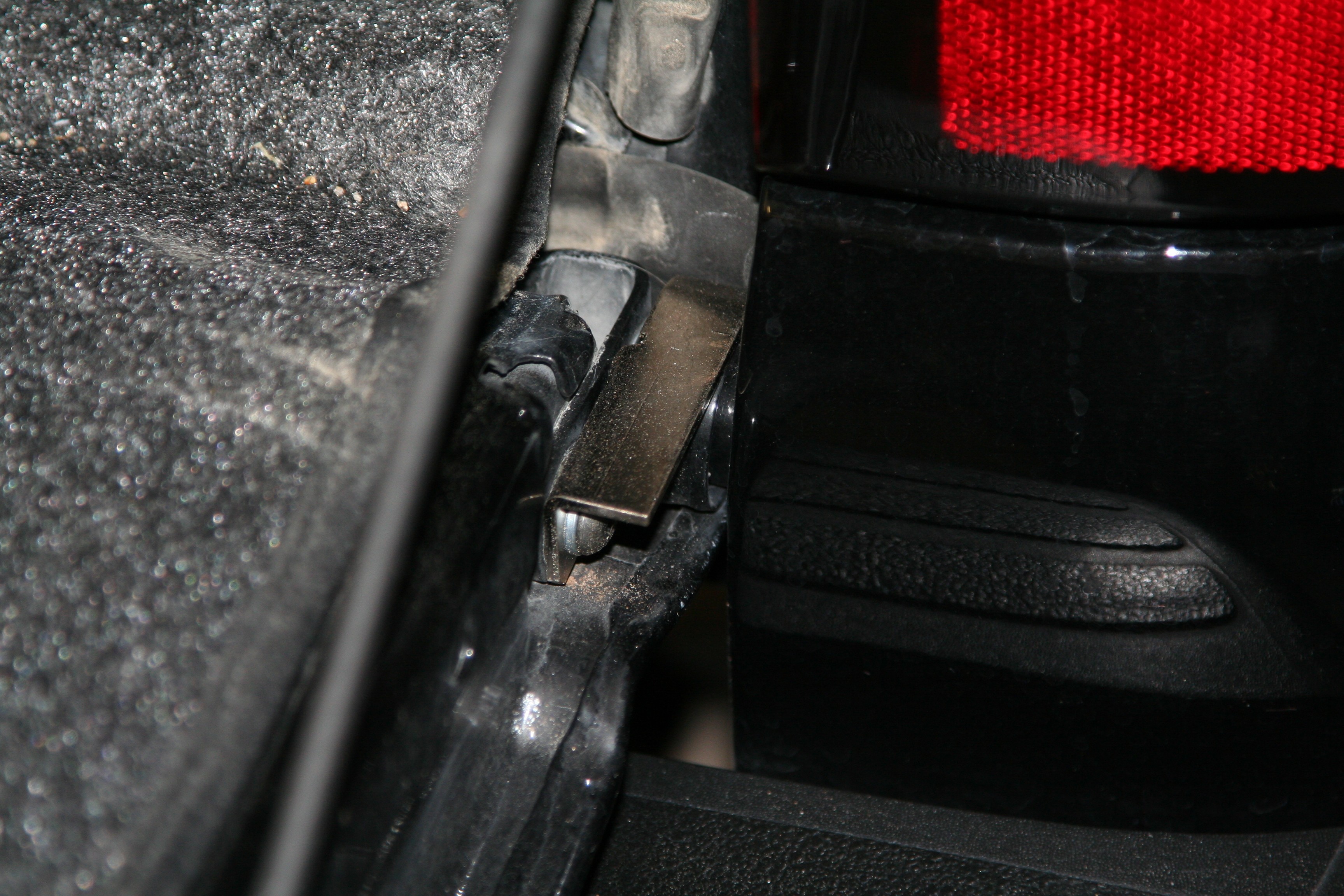 Redline Technical Groups does have very detailed instructions with pictures online here, http://www.jimmijammer.com/JJ%20Installation.htm that make removing your door panel quick and easy to allow the installation of the Jimmi Jammer.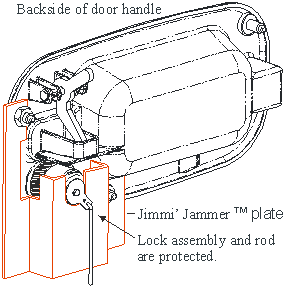 I highly recommend these products for the extra piece of mind they will give you when your away from your vehicle, be it at the lake, the mall, the movies or even out to dinner. Yes, in a perfect world stuff like this is not needed but there is always someone out there who does not believe in hard work and honesty and has no respect for other peoples property.
All of these items as well as other fine security items are available for several car, truck and van makes and models. For more information on all of these fine products and to check for specific applications go to http://www.jimmijammer.com  To order them at the best price go to their online store at http://www.trucksecurity.com/
Like I said before, if a thief really wants your vehicle, sadly there is nothing that can prevent it happening. However if you can make it more difficult to get into your vehicle it just might deter them enough to pass on your stealing your ride.
Thanks for visiting my site. Be sure to tell all of your fishing buddies and come back soon!
Until Next Time, Good Luck and Tight Lines To Ya!