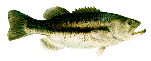 Often called search baits. These lures are most best used when the bass are aggressively feeding or easily provoked. Some of the prime times to use reaction baits are in the late winter/early spring when the bass are aggressively feeding to fatten up for the upcoming spawn. Another prime time is fall because they see that the days are getting shorter and this triggers the instinct to fatten up for the upcoming winter when the food source is not as abundant. Yet another good time is early in the mornings or the evenings during the summer. Night fishing during the summer can be very productive as well.
Some of my favorites reaction baits are as follows, First off the crank baits, of which there are several different kinds, which we will go into a little later. Second would have to be spinner baits, also know as blades. Then we have the jerk baits also know as rip baits or twitch baits. Then my all time favorite, surface lures.
Crankbaits: As I mentioned there are several different types of crankbaits, all of which come in floating, slow sinking, fast sinking and suspending. There are many different ways of working this type of lure. One very effective way is to crank it down to the bottom and every time you hit something to stop and let it float back out. At times bass will crush them as they float back up.
Shallow Diving, these usually have a smaller lip on the front.
Deep diving, these have a bigger lip allowing them to dive deeper.
Flat Sided, or Lipless, these usually sink slowly and can be worked at various depths and speeds depending on the mood of the fish.
Spinnerbaits: Safety pin style, not the inline type that are usually associated with trout. These lures are pretty much weedless and can be worked very well through trees without hanging up. They can be worked in a variety of ways from waking the surface to slow rolling in deep water as well as fished like a jig. Another effective trick is to reel the spinnerbait very quickly up to a piece of structure and let it "die" by stopping to reel and letting the bait helicopter down and hang on because at times they will try to rip the pole out of your hands.
Recently there has been allot of attention drawn to the "Chatter Bait" which is basically a modified version of a spinnerbait but it is every bit as effective as its cousin the spinnerbait.
JerkBaits: Long skinny lures. You have your shallow divers with a small lip and deep divers with a bigger lip. These lures are generally worked in an eratic manner, jerk, jerk, pause. Increase the amount of jerks or let it pause longer, try faster or slower jerks, try all kinds of different retrives until you figure out just how the bass want it at the time. Then there are the soft plastic jerkbaits, Sluggo's, Flukes, Shadows and such.
Surface: There is a whole plethora of surface lures. Basically any lure that floats on the surface and creates some kind of disturbance from walking the dog to chugging. Some examples of surface lures are, Sammy's, Zara Spooks, Pop R's, Frogs and buzz baits. Also some crankbaits can also be used as surface lures with good luck as well as a whole variety of soft plastics rigged weightless. Trust me, there is nothing like the adrenaline rush one gets when they witness a big ole bucket mouth exploding on their surface lure and it does not matter if it's the first time or the millionth time, the rush is ALWAYS there..
As you can see, the list can be quite extensive. I'll go into more details on each of these different types of reaction baits in future articles, giving some tips I've picked up over the years as well as sharing some secrets on modifying them that I personally feel improve your cast to strike ratio.
Thanks for visiting my site. Be sure to tell all of your fishing buddies and come back soon.
Until Next Time, Good Luck and Tight Lines To Ya!