Well, summer has arrived and here in the desert the daytime temperatures are already getting into the 100's. While going to the lake in the early morning hours are not all that bad, coming home in the heat of the day can take a toll on your tow vehicle, especially if you have to go up hills to get home. I'd like to take some time to share some things I do to assure a pleasant trip home.First off, my Chevy came with an external oil cooler so that helps keep the temp down. I also switched to Castrol 5-30 Full Synthetic, the one with the gold cap. I believe they call it their Extended version.
Now lets discuss the transmission. Towing a boat, especially up steep inclines, does make the transmission have to work harder and run hotter. Bottom line, heat can destroy your transmission, which we all know can be very costly. While my Silverado did come with the optional transmission cooler I still didn't feel it was enough, especially seeing how small it was. After doing extensive research I went with the Tru Cool Max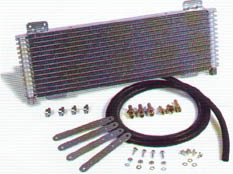 47391 which has a 40,000 GVW rating, 45,000 BTU rating. Its dimensions are 8 1/2 x 22 3/4 x 1 1/4 and comes with 3/8 inverter flare. This model does not come with the external thermal bypass because where I live the winters are very mild. If you live in the cooler climate area you might want to get the one with the thermal bypass.
The installation was not a simple plug and play but it was still an easy install. I fabricated my own mounting brackets out of a couple pieces of angle iron because this thing is considerably larger than my stock optional one. I also had to cut my factory tubing and install the tubing that was supplied with the kit because the stock fittings would not just bolt up. After installing it I had to add about ½ quart of transmission fluid to top off the level. Prior to installing the Tru Cool Max the transmission temp would get up to 205 when climbing Walker Pass on my way home from the lake. Since the install I have never gotten above 185, even when the outdoor temp got as high as 125.
Prior to every trip, if I'm taking the Champion or not I always check all of my fluid levels, antifreeze, oil, transmission, and power steering, its cheap, easy and quick insurance, so be sure to take the few minutes to check these things before your next outing to help insure a happy, fun outing.
Thanks for visiting my site. Be sure to tell all of your fishing buddies and come back soon
Until Next Time, Good Luck and Tight Lines To Ya!