Hi and welcome to my site. Today I figured it's about time I get into a little detail concerning finesse fishing.
There are many different ways of finesse fishing so this will be a 2 part post with part 2 to show up in the near future.
What exactly is finesse fishing?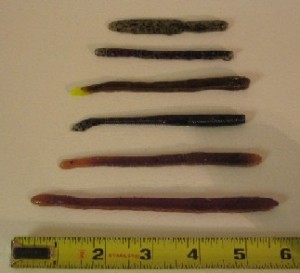 For the most part finesse fishing is basically down sizing your offering and slowing the presentation down. Some techniques that come to mind are Split shot, drop shot , Doodeling, Shakey Heads, Slider Heads and darter heads. As you can see the list is endless.
On the other hand you can also use big lures for finesse fishing, just as long as your presentation is slow. That's would be the real key to this style of fishing. Slow and methodical is the trick. What your looking to do is get the inactive bass to react to your lure.
So anyhow, lets dig a little into some of these techniques and I'll give up some of my tips that work for me. I already talked about rigging several of these techniques in Bass Fishing 101 so I'll try and remember just what I shared and try not to bore you too much. I will however go into a little detail on how to fish them.
The drop shot. This was originally used as a deep water style of fishing with light line and small baits. You would cruise around and watch your graph, find the fish on some kind of structure or suspended, position yourself above them and drop the lure in front of their faces and shake it until you made them mad enough to eat it.
It evolved into much more over time. Now it is used to make long casts to underwater structure and slowly shook back to the boat. This techniques can also be used effectively while fishing from shore. Cast out to what appears to be open water, let it sink and shake it while not moving the sinker. If you don't get bit then try shaking it while moving the sinker. If you come in contact with structure try and shake it in place
Another way of finesse fishing it is to use a bigger weight with a bigger lure and actually flip it into cover. I have heard people call this variation of the drop shot rig, a flop shot rig. Whatever you want to call it the principal is the same as I describe below.
Most of the times the bite will be very suttle, maybe you might see your line jump or twitch and then have a heavy sensation on the other end of the line. Other times you'll just see the line do something you didn't make it do, like move or continue to seem to sink when the water is not all that deep.
When these things happen, reel up the slack, feel the pressure and set the hook. Most of the time it does not require a bone jarring hookset like with a jig, just a quick little jerk will do, especially when you have your lure nose hooked with the tip exposed.
On to the split shot rig. Once again, this rig is basically a down sized version of the Carolina rig with a round split shot weight attached to the line.
As to how to fish it goes you cast out and basically drag the bait along slowly. Often referred to as long lining because you can cast the line out, let it sink and basically control the speed of it by slowly tapping your trolling motor.
I have seen allot of tournaments won this way. During team tournaments the person in the front of the boat will be casting out a jig or drop shot while the partner in the back will dragging a split shot. With this way of fishing between the 2 of you, your able to cover the water pretty thoroughly.
However if your fishing a draw or Pro-Am tournament it can really be a disadvantage to being in the back of the boat if the person up front wants to long line because it makes it very difficult to cast out towards shoreline structure and if you try to long line the 2 lines can get tangled up and it can cause tension between the 2 people in the boat.
Yes, I am speaking from personal experience here. I have had more than one bad experience while fishing draw tournaments prior to getting my own boat and lets just say that by the end of the day no one in the boat was happy.
Anyhow, back to the subject. I like to use the round split shot weights without the little "ears" on them because they go through structure much smoother than the other ones. Yes, they can be a pain in the back side to remove from the line and still be able to reuse them but to me the trade off is well worth the price.
As far as to what the bite feels like, refer to the above description of the drop shot bite. Split shotting is the technique that I will rig up for people who are just learning to fish for bass because its easy to do as well as effective. You can split shot anything from a 3 inch reaper to a 12 inch worm.
As you can see, there is a lot to the technique called finesse fishing and I only dove into 2 different style's of it. Stay tuned for Finesse Fishing Part 2 where I'll get into a few more techniques that I know will help you catch more bass.
Thanks for visiting my site. Be sure to tell all of your fishing buddies and come back soon
Until Next Time, Good Luck and Tight Lines To Ya!
[tags]finesse fishing, bass fishing, drop shot, split shot[/tags]