Went over to Isabella Friday because I heard the crappie bite was ON. While the fishing was fun the entire trip didn't quite go as well as planned. I arrived at the lake and get a text from my friend that was supposed to meet me at the lake stating that he had a tire blow out on the way to the lake and didn't want to continue on to the lake on his doughnut spare, which I cant say I blame him. So instead of launching at the south fork marina as planned I launched at the main ramp between the 2 dams because it's a little more 1 person launch friendly. I prepped the boat in the parking lot, backed down to the water, tied a rope from the boat to the railing on the dock and splash the Champion. Parked the truck and climbed in fired up the Mercury and head out. Climb In Sit Down, Shut Up And Hang On!
I wanted to do a little bass fishing first so I stop at my first spot, a rock pile in the middle of nowhere and toss a spinner bait. Second cast, hookup! I fight him to the boat and as I lean over to lip him my cell phone in my shirt pocket slips out and "Splash" it sinks to the bottom. Cut off from the outside world, Oh well, I've been looking for an excuse to get the new Samsung Infuse that's coming out later this month. The bass weighed maybe 2 pounds so I released him without any pictures. 5 more casts and 2 more bass, all about the same size as the first so now it's Crappie Time.
I move into position and proceed to catch them, I kept moving from spot to spot looking for them. The good news, I caught at least 50 of them, the bad news, I only kept 8 of them that were good sized. I was hoping for the "Slabs" but couldn't find them. About 1200 I saw the white caps starting to come into the south fork which means that the rest of the lake is already nasty so I put the rods into the rod locker, tie everything down and proceed to take on the white caps on my long ride back to the launch ramp. By the way, nothing rides like a big Champion in rough water so even though my ride was a little rough I'm sure others had a much rougher ride.
As it turned out a friend of mine that was out, we were working different brush plies within site of each other and when one of us would find one with fish on it we would we would wave the other over. I talked to him later that afternoon and as it turned out about 5 minutes after I left he found "The Bush" and loaded his livewell with 1 ½ to 2 pounders in about 15 minutes. The down side, his ride back was rough and wet.
I only took a couple pictures, here they are sitting in the livewell. "Hey Ralph where are we? Don't know but this aint so bad, white soothing walls, clean water with bubbles" Little did they know the fate that awaited them.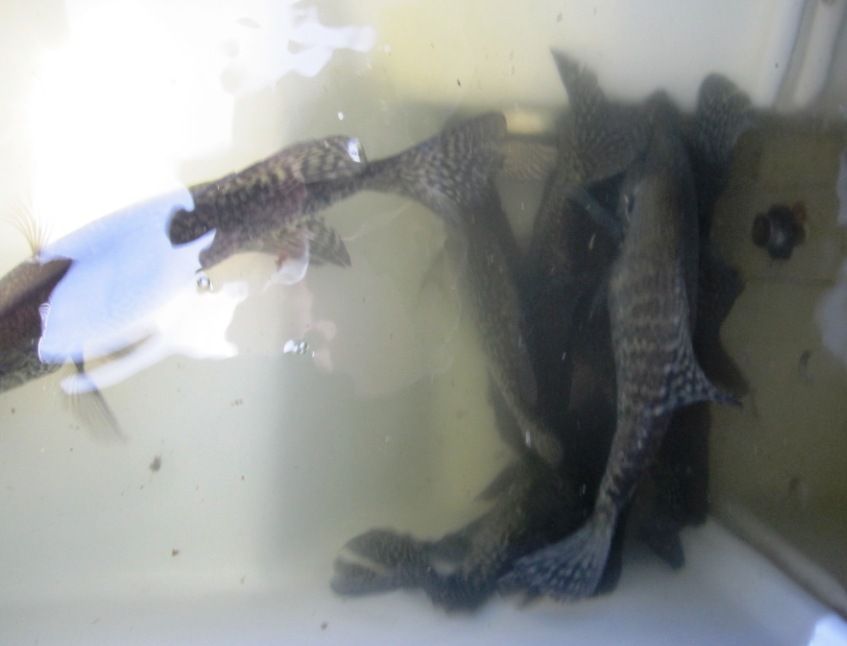 Here they are awaiting "The Knife"
"This aint fun anymore, we have no water and why are we laying in this metal tray and whats with that knife sitting there"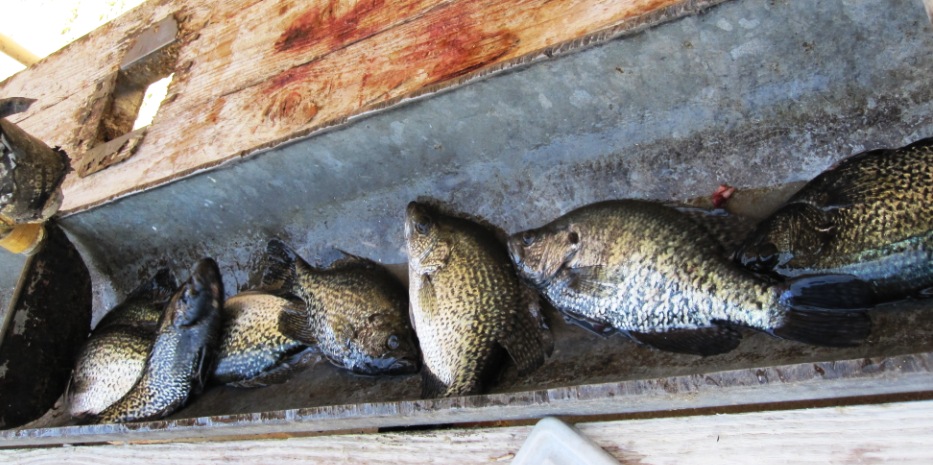 Had a great time and a tasty fish and chips dinner, nothing better than fried crappie. If this weather would ever stabilize the slab bite should pickup. I have a feeling that this will be a great year for crappie at Isabella.
Thanks for visiting my site. Be sure to tell all of your fishing buddies and come back soon.
Until Next Time, Good Luck and Tight Lines To Ya!