Straight out of the box most of the hooks that come stock on crankbait's leave something to be desired. I've tried sharpening my hooks in the past and I've just never been good at it. Maybe I need to have a sit down with a friend who is experienced with sharpening hooks and have him school me because I know there have been times that I've been on the water and dulled a hook on a rock or tree and didnt have a replacement hook with me and it would have been nice if I could have just touched up the hook a little. 
Several companies make quality replacement hook, from my personal experience, so this is just my opinion, while Gamakatsu hooks used to be one of the very best, I feel that over the years their quality control has gone down some. I have found that one pack will be great while the next pack, lets just say, leaves something to be desired.
In my opinion the Daiichi Death Trap Trebles are some of the finest made, yes they are a sponsor of but after using them I can honestly say that I would not hesitate to pay full price for them, in my opinion, they are that good! As to which size hook to use just match up the size of the hook that came originally on the lure. Some people like to go either smaller or bigger but I believe the lure companies used a specific size after tons of research to be sure the lure runs true and it achieves the best action and the hooks don't get tangled with each other.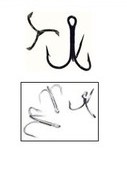 After replacing the hooks, and me being me, I can't leave well enough alone and have to make what I consider are improvements. Years back I remember buying an Excalibur Fat Free
Shad crankbait that had what was called a Rotating Treble Hook which according to the company featured a 6-degree counter rotating shaft in each hook bend. All this meant was that the points of the hooks shafts are slightly bent so the points are not lined up with the shaft. According to the company "This gives them a counter rotating angle in each hook bend, each of the 2 free points of the rotating treble hook travels counter clockwise once contact is made. This movement of the hook points results in at least one other point coming into contact with the fish! This unique treble hook can increase your hook ups by 30%!" From my personal experiences, this little modification has helped me hook and land more crankbait bass. The biggest down side that I have found to modifying the hooks in this manner is they seem to grab everything, sticks, trees, rocks, etc. To perform this modification is very simple. All I do is use a pair of pliers, grab the hook close to the bend and bend them slightly so the point is not in line with the shaft.
I have been intrigued by the new Basstar SpinTech Treble hooks with the built in "Swivel" but have yet to give them a try. In my opinion the ideal of a treble hook that spins freely should mean less bass lost because as the fish throws his head back and forth he will not be able to use the hook as leverage against the lure to shake the hook because the hook spins instead of holding still.
Try changing out or just sharpening and modifying your stock hooks and I can pretty much promise that you will land more fish.
Thanks for visiting my site. Be sure to tell all of your fishing buddies and come back soon.
Until Next Time, Good Luck and Tight Lines To Ya!