First off, sorry for being gone so long. I've been extremely busy lately.
Anyhow, judging from the title and the category this is in you can probably guess what this post is about. Yep, after all the years fishing out of my 1989 Champion 201 I recently upgraded my boat in a big way.
Even though there was nothing major wrong with the trusty old Champion, other than the fact it was getting old, the interior could use some help and the gel coat was getting a little rough, it was time to step up a level. I started out looking at some used boats, went for a few test drives but nothing screamed "I'm Your Boat!" After months of searching for the one my wife finally said, "Just get what you really want and will be happy with for many years", aint she the greatest!.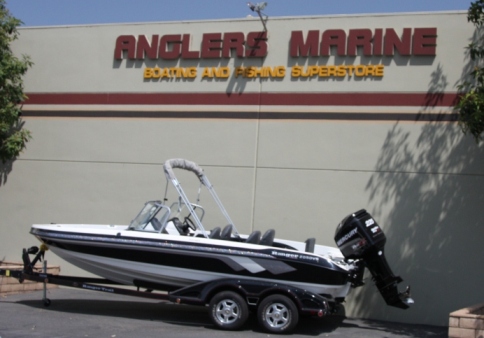 Enter Rick Grover and his staff from Anglers Marine in Anaheim CA. The boat was actually slightly used, it was Ricks Demo boat so it came with a full warranty on everything. Here are the specifics of my new boat.
It's a 2008 Champion 210 Elite SCX with a Mercury 250 XS with a 10″ Hydraulic Jack Plate and steering. Dual Blinker control on the wheel, one for trim and one for the jack plate. Tilt wheel and the boat sits on a custom tandem axle trailer with disc brakes, spare tire, and swing tongue
For electronics it has a Lowrance LCX-38C HD on the bow and a LCX-28C HD on the console. 36 Volt 109 lb Tour Edition trolling motor w/ Recessed foot pedal. 4 Optima Batteries that sit in 4 Phillips Stainless Steel Battery trays. It also has a 4 Bank on Board Charger.
The rod lockers have custom made rod holders and between the 2 of them they can hold 24 rods and came with a Rod Lock-R-Bar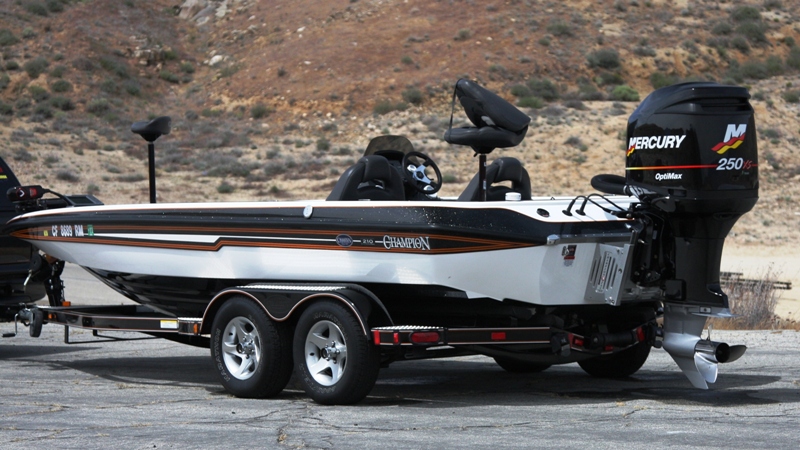 As you can see, this thing is fully loaded and I love it! I thought the ride in my 201 was smooth but there is no comparison between the 2. This thing is VERY smooth in rough water. The storage space is incredible and there is enough room to play a football game on. The only down side to all the room is I often find myself packing way too much tackle. I'm a big guy, 6'2, 275 with a 56 inch chest and a 44 inch waist, as you can see by my pictures of me and this boat is more than roomy for me. When I sit behind the wheel I can fully extend my legs without any problems.Fishing out of it is a dream. Its very stable in the water.
Another thing that I love about it is the recessed foot pedal. My old Champion did not have this feature and I didn't realize just how nice it was until I got this boat. I have bad knees and after a day of fishing my knees would just ache. I used to take a lot of Aleve after a day on the water but not anymore.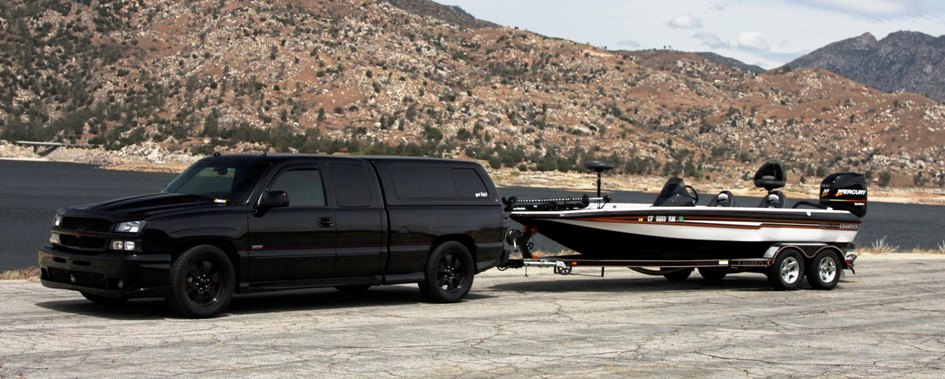 Yes I love my boat. The wife calls it my mistress and if I realistically think about it, I guess I cant argue with her, HA!
Thanks for visiting my site. Be sure to tell all of your fishing buddies and come back soon.
Until Next Time, Good Luck and Tight Lines To Ya!